What is QWO Cellulite Treatment?
It's reported that over 90% of women and roughly 10% of men have cellulite on their thighs or buttocks. Even though so many people suffer from cellulite, it can still be difficult for them to feel confident in their own skin. At Spyglass Dermatology, our team is thrilled to offer a solution for cellulite in the form of QWO cellulite treatment. This treatment is a top-of-the-line injectable procedure that is designed to reduce the appearance of cellulite at the desired locations, making patients feel more comfortable at the beach, in the bedroom, and anywhere else they might be. To find out if you could be a candidate, contact skilled dermatologist Dr. Ryan Schuering and schedule a consultation at our office in Stuart, FL.
Reviews
"This office is extremely efficient, staff is knowledgeable, professional, and courteous."
- M.R. /
Office Visit /
Nov 25, 2021
"Dr. Schuering and his receptionist, Lisa are the BEST!!!! I stumbled upon his office online after trying very hard to find the BEST doctor for my husband's issue and they definitely deserve MORE than 5 stars!!!! Not only did the doctor clear up his issue in just one visit but his receptionist Lisa made the visits all the more comforting!!! So thankful for them!!!"
- D.S. /
Google /
Nov 05, 2021
"I wanted to say huge thank you to Dr. Schuering! I have been visiting him for several treatments and I am already seeing amazing results! Super nice office and staff!"
- A.M. /
Office Visit /
Oct 27, 2021
"It is no wonder why the Spyglass team has collected so many 5 star reviews. The office is very well kept, the staff is friendly and attentive, and Dr. Schuering is an excellent practitioner of medicine. Before my procedure began, he explained to me every detail, and provided me with a printout of more research on the matter. During the procedure he was very professional and friendly, and put on some music for me and the staff to enjoy. Afterwards he watched my reaction closely, and personally followed up with me the next day to check in on me. I highly recommend the Spyglass Derm Team and Dr. Schuering. They are a wonderful, patient-first practice."
- R.U. /
Google /
Oct 20, 2021
"Fantastic experience. I developed itchy bumpy skin that was spreading. Got lucky and Dr. Schuering had an opening same day. What a nice new office. Staff was excellent and efficient. Dr. Spent the time and then some, to listen an examine the issue. Gave a treatment plan that was easy to understand. Dr. Schuering is now our Derm Doc."
- R.B. /
Google /
Oct 19, 2021
Previous
Next
Am I a Candidate for QWO Cellulite Treatment?
While QWO cellulite treatment is generally considered a safe and effective treatment for adult patients of many ages, there are some circumstances in which it might not be the best option. For example, individuals with an infection, diabetes, or certain other conditions are not usually considered ideal candidates for the treatment. In addition, patients who are considering this treatment should not have loose skin or varicose veins on the buttocks. This procedure is often most ideal for people who meet the following qualifications:
Are at a healthy, stable weight
Have healthy, taut skin
Possess cellulite on the buttocks
What Are the Benefits of QWO?
Though fat can usually be easily eliminated through a proper diet and exercise plan, cellulite is not so simple. It usually continues to linger no matter how much fat has been worked off. QWO is fast, simple, and minimally invasive, making it incredibly beneficial for anyone seeking a simple solution to stubborn cellulite. In just a few treatments, QWO can significantly reduce the appearance of cellulite on the buttocks, making it easier for patients to feel comfortable in their own skin.
WHAT IS QWO?
QWO is a prescription medicine used to treat moderate to severe cellulite in the
buttocks of adult women.
IMPORTANT SAFETY INFORMATION
Do not receive QWO if you are allergic to collagenase or any of the ingredients in QWO or have an active infection at the treatment area.
QWO may cause serious side effects, including:
Allergic (hypersensitivity) reactions, including anaphylaxis. Call your healthcare provider right away if you have hives, trouble breathing, low blood pressure, swollen face, chest pain, dizziness, or fainting after receiving QWO;
Injection site bruising
Before receiving QWO, tell your healthcare provider if you:
have a bleeding problem
are pregnant or may become pregnant, nursing, or plan to nurse. You and your healthcare provider should decide if you will receive QWO or breastfeed.
Tell your healthcare provider about all the medicines you take, including prescription and over-the-counter medicines, vitamins, and herbal supplements. Especially tell your healthcare provider if you take a medicine that prevents the clotting of your blood (antiplatelet or anticoagulant).
The most common side effects of QWO include:
injection site bruising
pain
areas of hardness
itching
redness
discoloration
swelling
warmth in the treatment area.
These are not all the possible side effects of QWO. Call your healthcare provider for medical advice about side effects. You are encouraged to report the side effects of prescription drugs to the FDA at www.fda.gov/medwatch or 1-800-FDA-1088.
Click for Full Prescribing Information, including Patient Information for QWO
Achieve a Younger, Smoother buttocks
Cosmetic injections have progressed considerably in recent years, and QWO cellulite treatment has shown itself to be a rising star in contemporary aesthetic solutions. This injectable is able to reduce the appearance of cellulite on the buttocks for many patients throughout Stuart, FL. Reach out to Dr. Schuering at Spyglass Dermatology to find out if this treatment could help you achieve your aesthetic goals.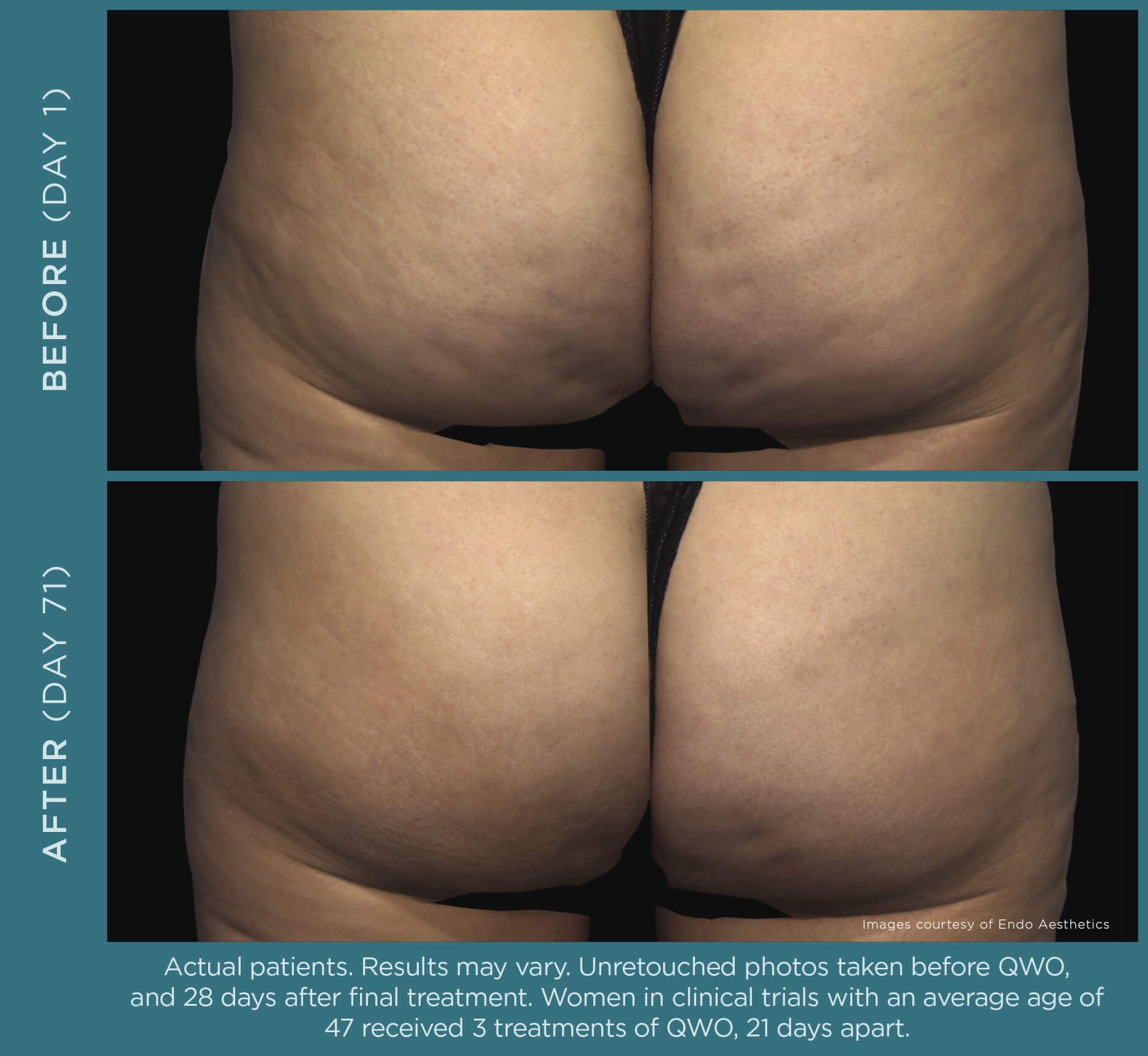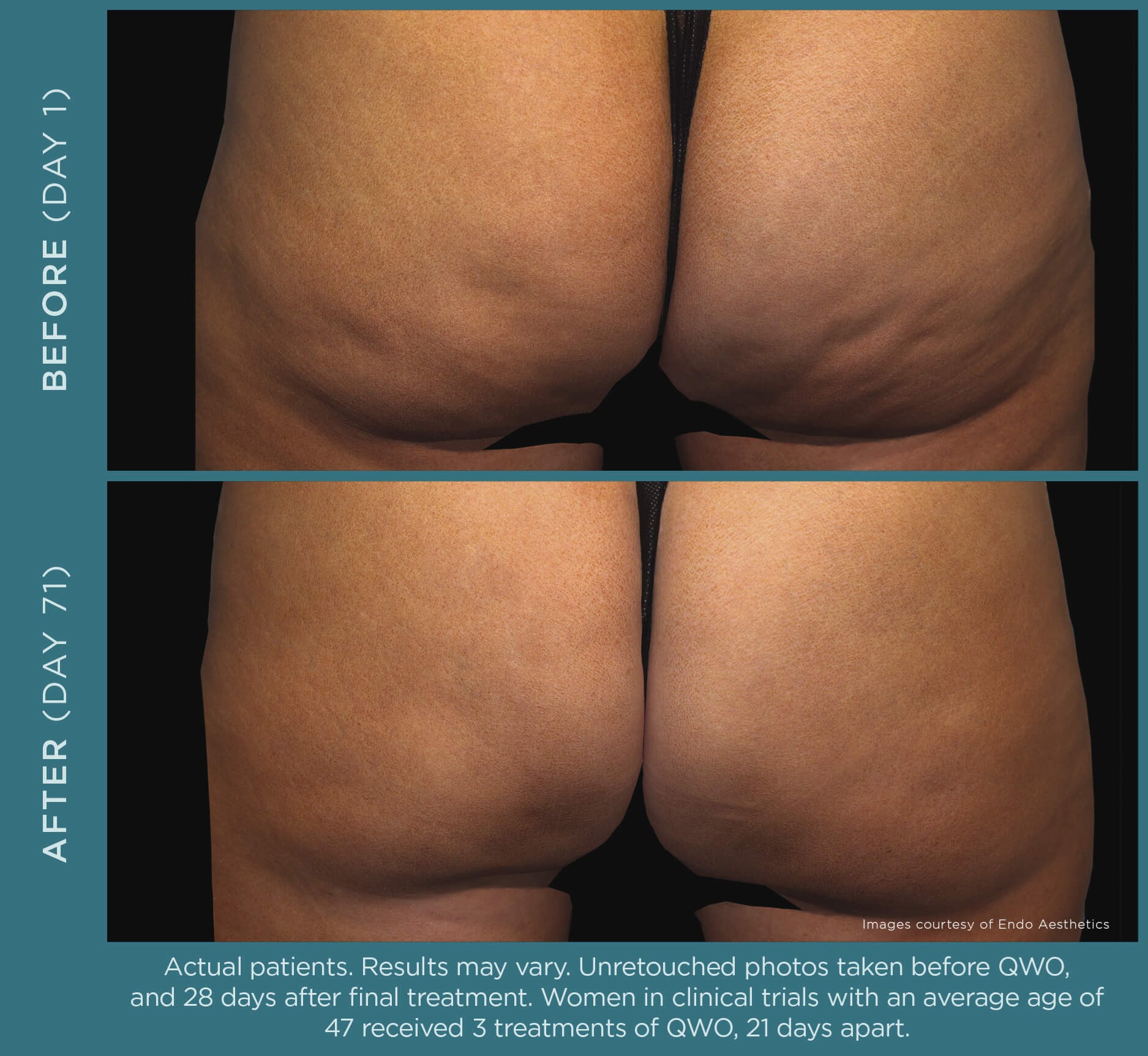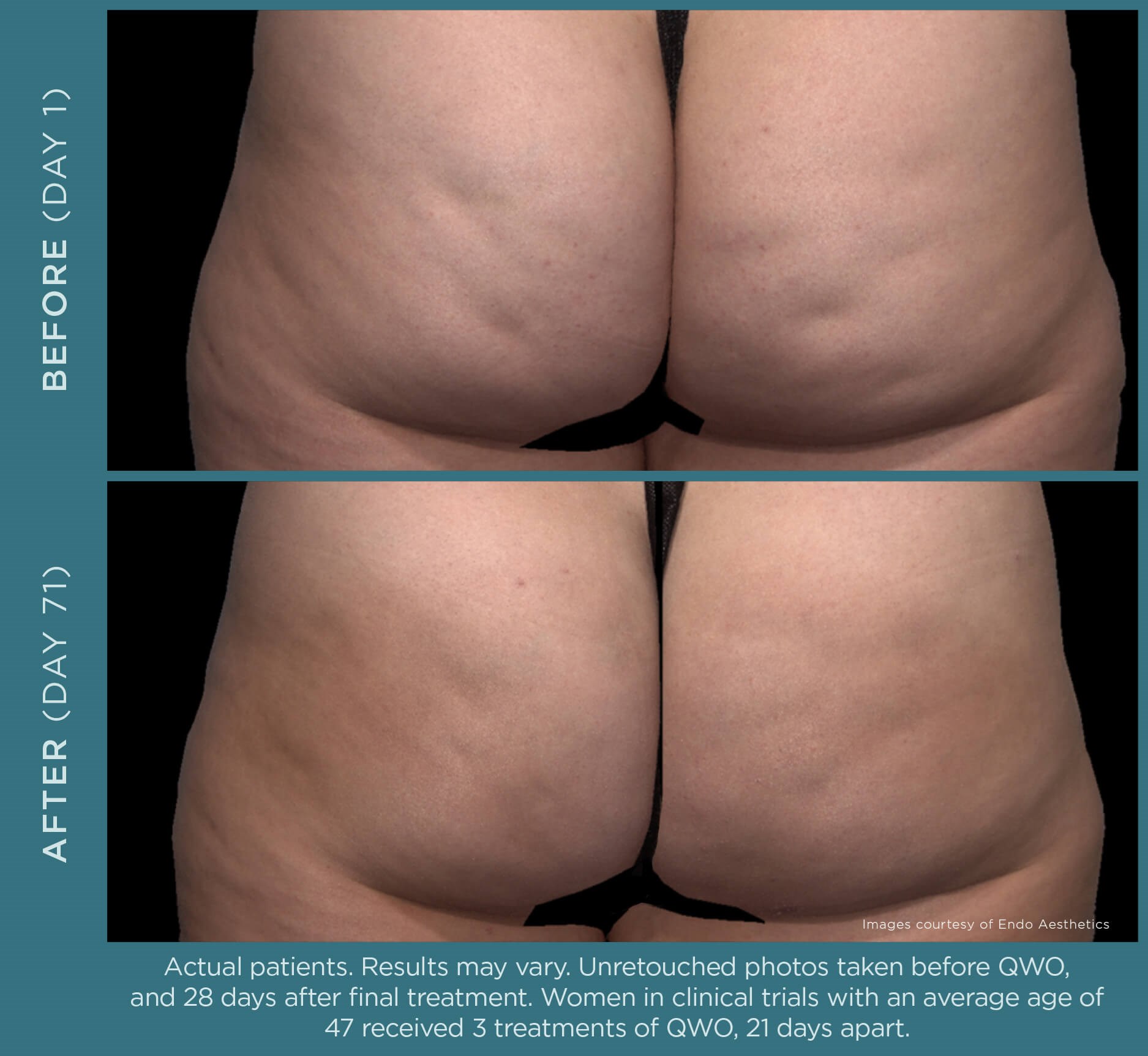 Related Procedures
Related Post